Jeff Lipsky Biography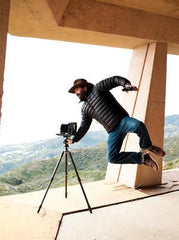 After graduating from Boston University, Jeff Lipsky spent a decade in the mountains of Telluride, Colorado, snowboarding in the winter and working as a fly-fishing guide in the summer. He loved the outdoors and his easygoing lifestyle, but found his true talent lie in photography.  With big ambitions, Jeff packed his bags and moved to Los Angeles to pursue his career.
He Now lives in Santa Monica with his wife and three children, and shoots a wide variety of subjects.  Whether photographing travel, lifestyle, architecture or celebrities, Jeff shoots with a naturalistic approach, his images are never forced and are consistently warm and inviting.