Callie Giovanna Biography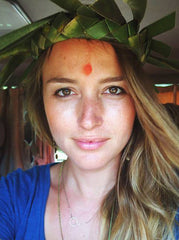 Callie Giovanna, born in Hawaii, is an acute observer of life.  The nomadic lifestyle in her childhood and adolescence – living in over twenty different homes before the age of twenty-one - instilled in her a love of travel. The constant stimulation from her change in environment lent itself to her incredibly sensitive and discerning eye. Callie's images are gentle, tender, and her point of view incredibly disarming. Her sensitivity to natural light and subtle nuances in body language make her photographs haunting and memorable. She is the omniscient viewer in the room – always letting you in on a little secret and showing you the non-obvious perspective. There is a story to be told in each one of her photographs.
In addition to her travel photography, Callie is very committed to bringing awareness to issues surrounding women; including body image and gender equality. She explores these topics through her series, "Woke Up Like This…", where she chronicles a variety of women in the most intimate hours as they just wake up. Pairing quotes about their experiences, insecurities, and obligations in relation to being a woman and what that means to them in their lives.
Callie attended the School of the Museum of Fine Arts, Boston as well as the Brooks Institute of Photography, developing her skills in both photography and digital imaging.  From 2005-2010, she worked for portrait photographer, Norman Jean Roy, as his Senior Retoucher and Studio Manager. In 2011 she launched her own post production company, CHROMA Visuals, which is growing daily. In 2013, with her business partner, she started Vitae Weddings, which has allowed for travel domestically and internationally, contributing to her travel photography and telling photographic stories for couples worldwide.  Her prints are available for sale through the Weiss Katz Gallery in New York City.  Her greatest photographic influences have been Steve McCurry, Philip-Lorca diCorcia, James Nachtwey, Sebastião Salgado, Irving Penn, and Richard Avedon. She has traveled to 37 countries and counting.
EXHIBITIONS, AWARDS, AND HONORS:
EXPOSED: A Photography Auction to Raise Funds for the Defense of Human Rights and Immigrant Rights, May 2017
Wanderlust: A Silent Auction Benefit, MOPLA, Lucie Foundation, proceeds to benefit National Resource Defense Council, February 2017
International Photography Awards, Honorable Mention, Culture, two series entries, October 2016
International Photography Awards, Family of Man, Honorable Mention, Childhood, July 2016
Instagram Jam, Group Show, Selection of Travel Photographs, Lucie Foundation, April 2016
Wanderlust: A Silent Auction Benefit, MOPLA, Lucie Foundation, proceeds to benefit Wild Aid and Mercy Corps, April 2016
LUMINOSITY, Lucie Foundation's First Annual Spring Fundraiser, May 2016
PDN World In Focus, Professional, Photo Essay Winner, December 2015
MIFA, Moscow International Foto Awards, Honorable Mention, People: Children and Culture, October 2015
Lincoln Creative Studios Exhibition, Selection of Photographs from Africa, April 2015
MOPLA Exhibition, Selection of Photographs from Thailand, April 2014
International Photography Awards, Honorable Mention, Travel/Tourism, Culture, Deeper Perspective, Portraiture, September 2013
US Embassy Bangkok: 180 years of Thai-US friendship, Exhibited in Central World in Bangkok, Exhibited in Central Airport Plaza in Chiang Mai, curated by Hossein Farmani of Farmani Gallery/Lucie Awards and Manit Sriwanichpoom of Kathmandu Gallery, July 2013
PDN Photobook Cali, a PDN branded special edition book celebrating the images that capture true California experiences, February 2011